---
When looking for Garage Doors in Rayleigh, choose ADL Door Services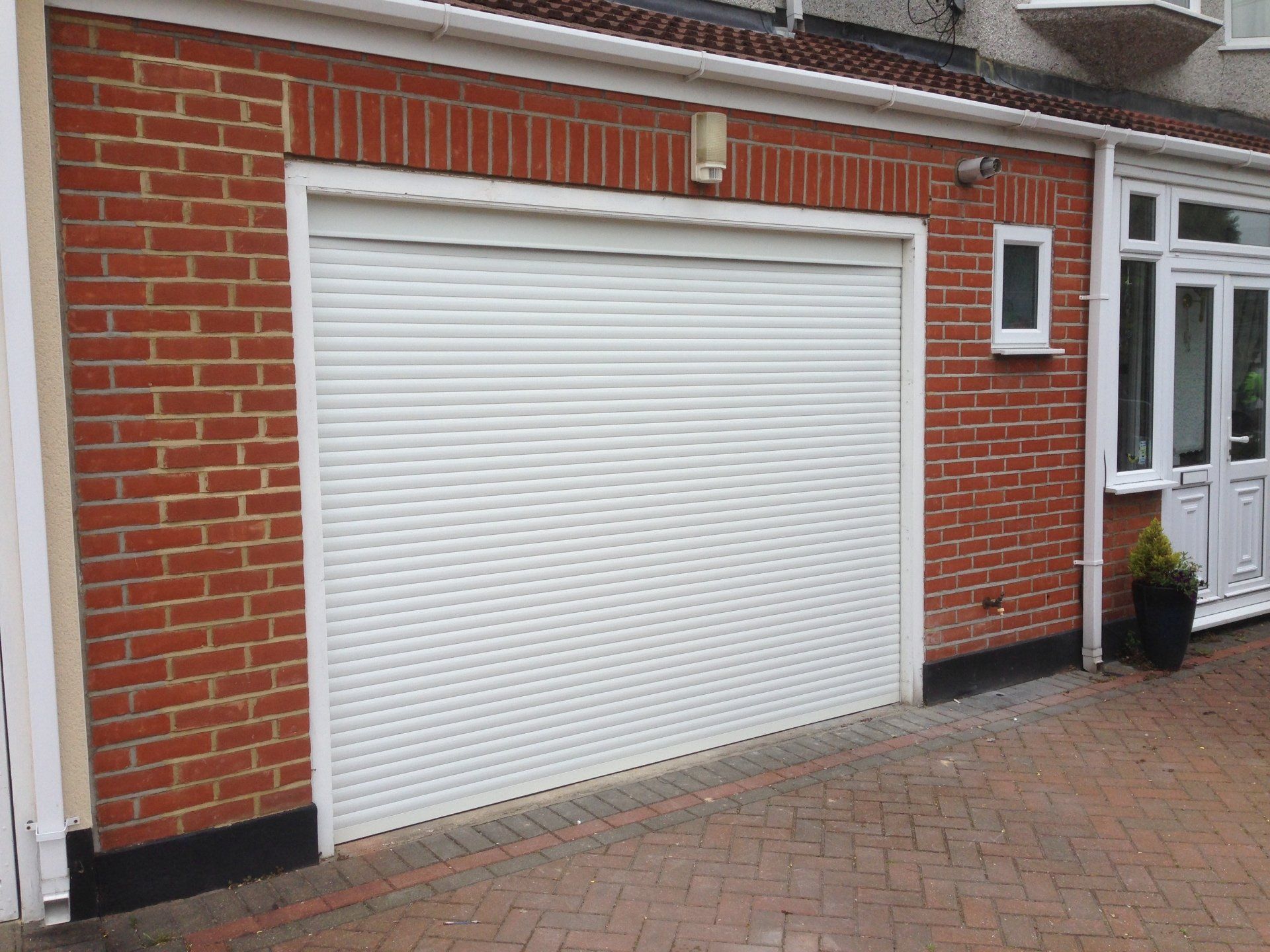 ADL Door Services Ltd can guarantee you:
Satisfaction Guarantee

Effective Communication

Efficiency across all services

Total professionalism

A finish that can be matched by no other
Garage Shutter Roller Door Dave from ADL has installed a roller shutter garage door for us today and he has been exceptionally professional and friendly from start to finish. Dave has done a fab job, very communicative throughout the whole process and is very tidy too (not to mention nice and quick!). Very pleased and would highly recommend ADL to family & friends.

Great service and communication Dave is excellent with communication and kept me updated on progress with job. He is always on time and work is neat. Overall i would recommend to others.

Fixing door Dave done a brilliant job fixing our door, he was very polite, professional and had very good customer service. I would recommend Dave to anyone. Very happy. Thank you!

Can't thank Dave enough for fixing our takeaway shutters. Listened to everything we wanted, offered more then we asked for and most importantly the way he presented himself was brilliant. Customer service goes a long way and Dave definitely has plenty. Would 100% recommend him. Brilliant Job and Amazing Customer Service
Are you looking for garage doors in Rayleigh?
If you're looking for garage doors in Rayleigh, then you're in the right place. At ADL Door Services, we specialise in the supply and installation of a wide variety of doors throughout Rayleigh and all of the surrounding areas. Whether you're looking for steel doors, sectional overhead doors, rolling garage doors or even fire rated shutters, ADL Door Services stocks a wide range of products, ready to be installed on your property.
Whether you're based in areas such as Basildon, Southend, Billericay, Wickford, Leigh On Sea or any of the surrounding locations, rest assured that ADL Door Services can provide bespoke solutions that are tailored to your needs, no matter the circumstance. So, for more information regarding our garage doors in Rayleigh, get in touch with ADL Door Services today.
Simply pick up the phone and give us a call. If you do not have time to speak to us right now, fill out the contact form and we'll get back to you right away.
Cost Effective Solutions
All of our garage doors are made from high quality materials as standard. Coming in a range of slat sizes 55mm and 77mm both are foam filled insulated to reduce noice on operation and keep you garage insulated and looking great to passers by. Both the 55mm and 77mm come with a high specification of parts including, heavy duty, twin wall, CFC free foam filled aluminium profile and full canopy as a standard.
This gives additional strength to the construction of the door along with protection from the moving parts. the heavy duty guide section provides safety and security against high winds and would-be intruders. Furthermore our products have a fully CE compliant safety brake device which prevents the door from freefalling when in the open position in the unlikely event of a motor failure. Lastly, our products also come with auto locks which prevent the door from being lifted when in the fully closed position.
These doors also come as standard with a fully automatic control panel and remote controls which can be operated from the panel as well also with the added safety of the bottom rail safety edge which will activate if you may have left something under the door when operated down protecting yourselves and the longevity of the door itself.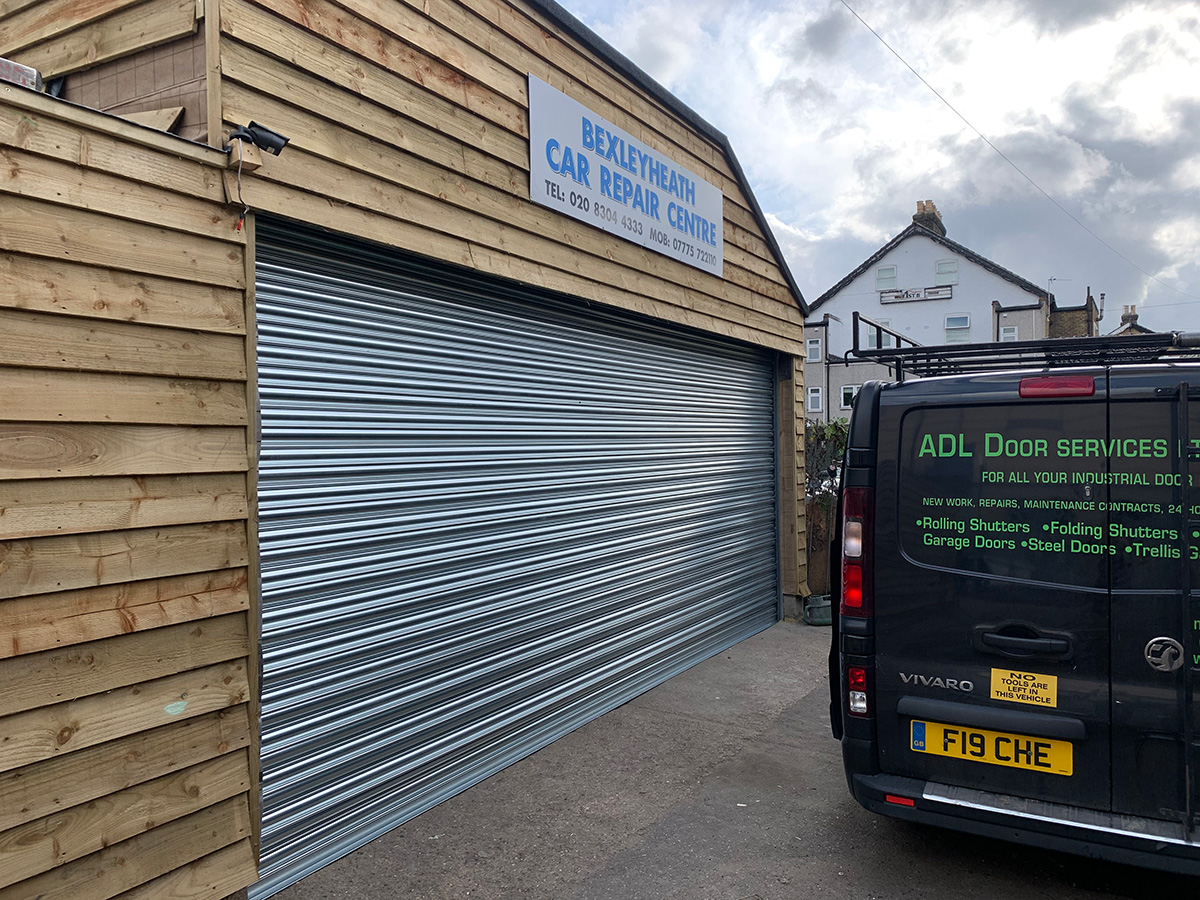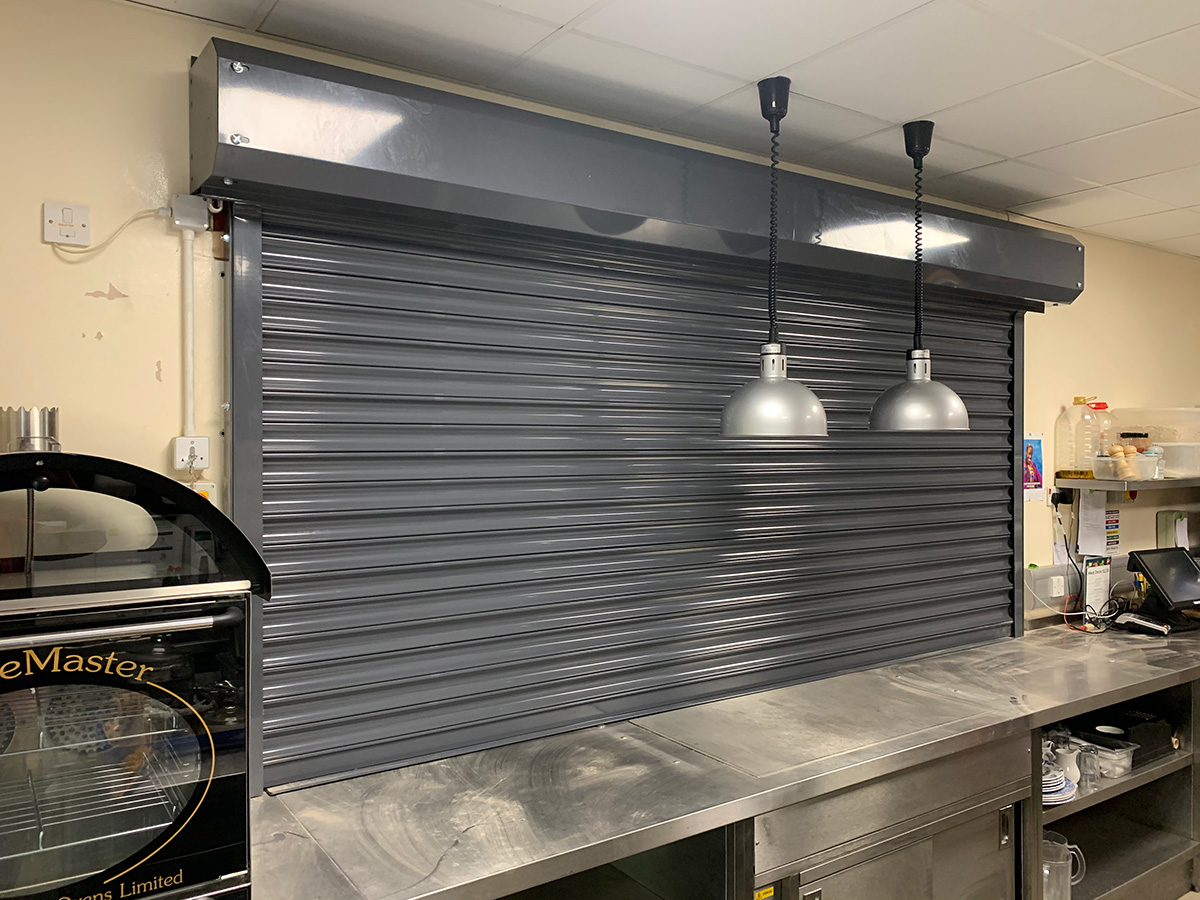 The benefits of a quality garage door
Good quality garage doors can provide better insulation to your garage, they are made with thermal efficiency as a priority. Ensuring that they keep damp out and heat in, which in time will save money on your energy bills. Not only is it essential that your garage doors provide you with an energy-efficient solution for your property, but they also ensure that your property is secure. Having a damaged or worn garage door can make you an easy target for criminal behaviour.
Having a garage door fitted by reputable manufacture can mean you are provided with a strong and hard-wearing garage door to ensure durability. Having a high-quality garage door fitted will provide you with easier access to your property, a new garage door with fully-working mechanisms can provide you with easy and secure access.
Not only does a new garage door mean that you have a secure and safe area within your property for your car or to be used as storage, but you will also be provided with an aesthetically pleasing appeal, it is essential that your garage does not cause your property to look miserable. Choosing the best garage doors Essex will present you with security and protection.
Why choose ADL Door Services?
Finding a reputable company who can install high quality garage doors in Essex can be very difficult. That is why at ADL Door Services, we pride ourselves in being able to deliver nothing but cost effective and high quality solutions to all of our clients. Having established our business from the ground up over many years ago, we have acquired a particular skillset that can be matched by no other in the industry.
By choosing ADL Door Services for garage doors in Essex, you can expect a total satisfaction guarantee. You will also be kept within the loop at all times. ADL Door Services believe in effective communication to move past all problems to get the job done to a high standard. As all of our team members are highly experienced within this industry, we ensure efficiency across all products and services that we have to offer.
No matter the services, you can expect ADL Door Services to provide you with a finish that exceeds a satisfactory level. No job is too big or too small. So for garage doors in Essex or any of the surrounding areas, ensure that you get in touch with the true professionals today.